The Club runs two teams in the Cornwall league the first team who gained promotion in 2013 up into division 2 from 3. The second team finished 3rd in division 6.The Club has a number of local lads that play and as the Club are now in a higher league they are trying to improve the facilities for the club.
Peter Stenlake is the main sponsor and president of South Petherwin CC. For the 2016 season's results go here.
A substantial amount of money has been raised within the Club , plus Grants that secretary Roger Gerry has been able to obtain from different sources also. This has enabled the club to purchase two new Sight Screens and a set of three covers for the cricket wicket.
Above the 2013 award winners.
The Club is going from strength to strength and have hosted an East West final the last two years running.
They have a young player, Taylor Gerry (above right) playing for the Cornwall under 12's and was available to play for the senior side from season 2016.
There is also another player, Paul Clements playing for Cornwall over 50's, showing that the club can cater for players from each end of the age spectrum. Both Taylor and Paul represented their county and country recently in South Africa. Paul (below left) representing England South, won the tournament in Cape Town at the Famous Newlands Ground. Whilst Taylor (below right) scored his first ton in Johannesburg while representing Cornwall under 13's.
The club have been lucky enough to have  grants from the Papillon fund and also the Ruth Burdon fund totalling some £2700 which is earmarked for a new mower and a set of mobile nets. For an up to date look at the club visit www.southpetherwin.play-cricket.com/
Below is a picture of South Petherwin Cricket team from 1911 when they played in a field behind the church at West Petherwin Farm.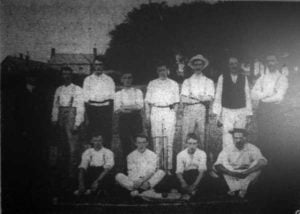 181 total views, 3 views today